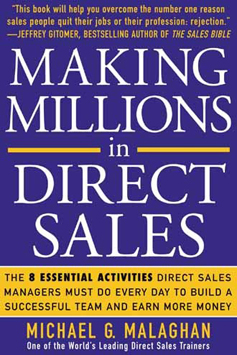 "I have one purpose in writing this book --

to help YOU become a millionaire in direct sales!"





Techniques developed in over 40 years of hands-on selling and team-building, I offer to you in "Making Millions in Direct Sales" with the 'Daily 8' -- essential activities to do everyday.

Whether you are building your own sales team, or whether you are a rookie in face-to-face selling, follow this blueprint and your sales will explode practically overnight.
I know.
I created a methodical 'do-this' system that works. I taught the system to others. The 'Daiily 8' worked for them. It will work for you, too.
That's my whole reason behind writing "Making Millions in Direct Sales"--so that anyone who wants to build a sales empire has a tried and true manual. I myself looked for such a book in all the years I was selling and couldn't find it. And so I wrote my own